Quilts for Ukraine refugees
When the news broke about the invasion of Ukraine I thought back to the sewing of scrubs and other items at the start of the pandemic and how this had helped me to feel I was doing something positive in a situation that was otherwise completely out of my control. And lots of you told me you felt the same. Then I thought about how the gift of a quilt gives more than warmth – and those two thoughts came together as an idea that the gift of a quilt could be a way of giving a warm and personal welcome to those refugees coming to our local area.
And while that thought was still taking shape, an email popped into my inbox from someone who must have read my mind! Bridgett lives in the USA but has relatives near Stafford. She told me that the members of her quilting community in America were wanting to donate quilts to refugees. As she is visiting the UK in June she is planning to bring between 12 and 24 quilts. Bridgett said she had visited The Corner Patch just before the pandemic locked everything down and wondered if we could help get these quilts to local Ukrainian families.
So it just has to happen! Of course I replied 'Yes' to Bridgett and am now in contact with the council to get an idea of how many quilts we will need to give every child – and hopefully every adult too – a quilt. A quilt to say welcome, to show we care, a quilt that will be a special possession and to bring warmth and brightness to their lives.
Can you help make this happen? You did such amazing work during the pandemic when our small local community sewed more than 1,100 sets of scrubs, plus countless laundry bags and face coverings, so I know how amazing you are and that this is possible.
I know too that some of you have quilts stored away in cupboards and drawers awaiting a home. You have enjoyed making them, using and displaying them, but then they are replaced with a newer make. Perhaps now is the time to get those beautiful quilts out of storage and gift them to someone for whom it will mean so much. I have a couple of my own to start things off so please help me if you can. Any you feel you can donate can be left at the shop, anytime during opening hours.
May update
A huge thank you to everyone who responded so positively to my suggestion that we collect quilts for the Ukrainian refugees who will be coming to our local area.
The project is now up and running. I have had quilts promised, delivered to the shop and almost 30 were left with me at The Corner Patch stand at the British Quilt and Stitch Village in Uttoxeter last weekend.
Quilts of every size, colour and design, some hand stitched or hand quilted, all of them beautiful and I am sure will be treasured by the recipient.
The first families have already arrived and a social group has been set up so they can meet together regularly. I will be delivering the first batch in a few days and they will taken tot he group for distribution. I have written an explanatory card to go with each one, which will be translated into Ukrainian.
June update
We had our Sewing Day last Sunday with 17 sewers turning up to help – plus we roped in a couple of husbands (mine and Wendy's), and Wendy's son, to help set up, make tea, serve the cake, and fetch the lunches! My dog, Teddy, came too, to welcome everyone and check the floor for crumbs!
I hesitate to single any one person out for thanks, but Wendy (of Sweetpatches, who teaches sometimes at The Corner Patch) has been of invaluable help to me throughout. She had worked so hard before the day, sorting and pre-cutting some of the donated fabric and had put together 10 packs, with a suggested pattern, all ready to be picked up and sewn.
Some people came with half-finished quilts, and we had a few huge quilt tops donated, so they could be sandwiched, quilted and finished. Alison, who arrived and set up her longarm quilting frame, was able to get these quilted really quickly.
Others were started on the day and nearly completed. So by the end of the day we had five quilts finished and more in progress. These will be added to those already donated – over 100 now!
We had groups piecing, some sandwiching, others machine quilting and binding. It was particularly pleasing to be joined by three young quilters. The youngest was aged just 10 and had only come along with her big sister and Grandma "to watch for a little while". We soon had her seated in front of a machine, given a crash course in piecing and she began joining strips. She was still there three hours later with a jellyroll quilt top well underway and Grandma insisting that they had to go home!
I've had so many messages from people who came to tell me they had really enjoyed the day, had met new people, and will we do it again. I do plan to arrange another day and I will keep you all informed. Eccleshall Community Centre was a perfect venue, but if we do it again and more people come along, we will need more tables!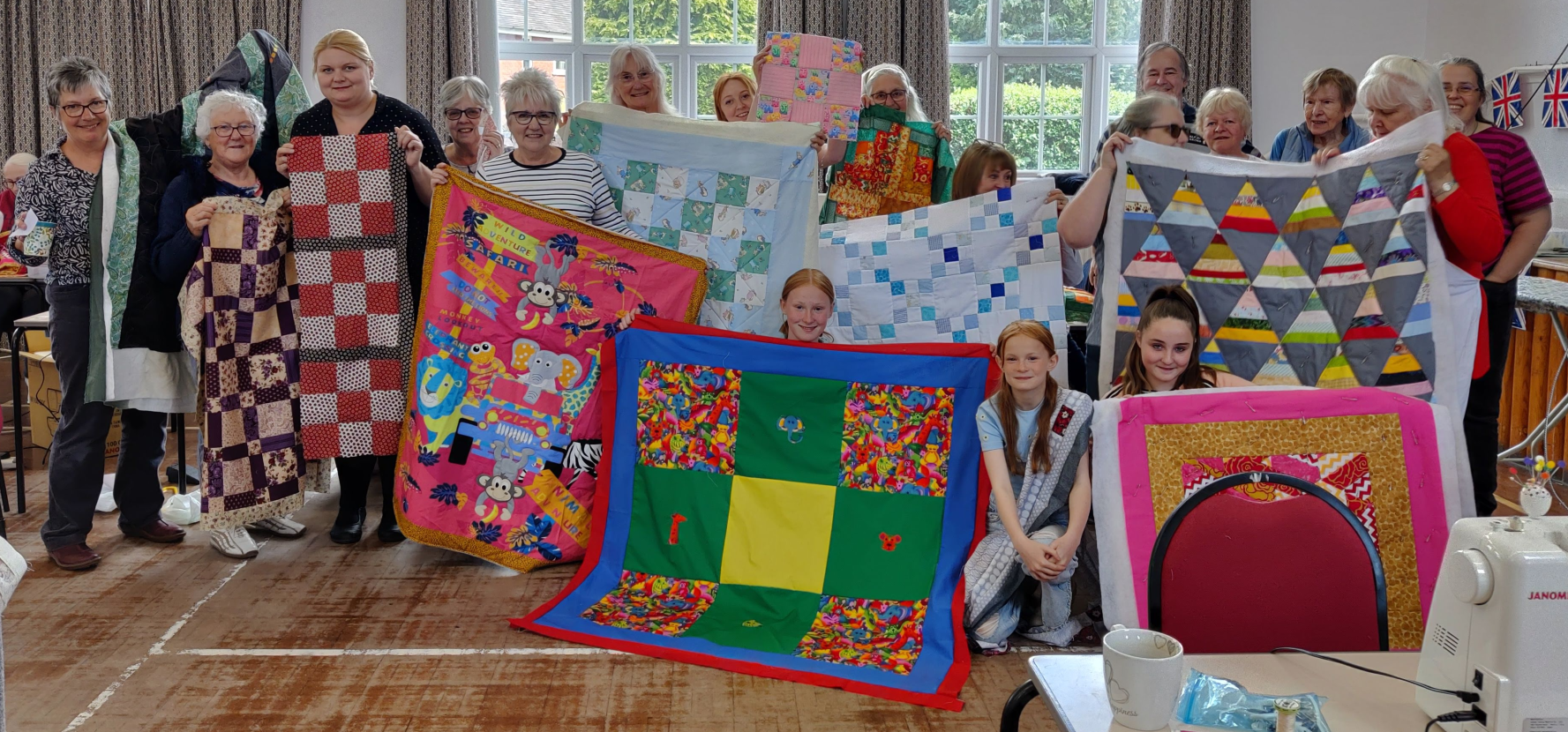 More good news is that Bridgett will be arriving from America very soon now. This is a picture she has sent of the 27 quilts that she will be bringing with her. These have all been made and donated by her local quilting community. I am concerned how she will manage to transport all of these, but she says her teenagers will help with getting them here – if she bribes them enough! She is being interviewed by her local newspaper before she comes over and, when she is here, Radio Stoke are coming to talk to us both.
Meanwhile the first batch of quilts have been distributed. I have had some messages of thanks (translated by Google); they are thanks for every one of you who has donated, sewn or otherwise contributed.
I have also been asked if the quilts can be distributed more widely, through the groups in Shropshire, Stoke, Tamworth and beyond. Of course, I said I was happy for them to go wherever there is a need.
Update:
As we are now getting very few requests for quilts for Ukranian arrivals, we have been distributing quilts more widely.
Recently we donated about 30 quilts to the national charity 'Quilts For Care Leavers' (Q4CL) and also to Linus, who give quilts to disabled and disadvantaged children.
You can find out more about both these charities online.
We also passed on some of the fabric that had been donated to us, but was not suitable for use in a quilt, to Q4CL.
Nothing that has been donated through us is wasted. It will all be given to someone in need, who will appreciate your gift. On their behalf, we thank you all.