What a fantastic end we had to October with our second charity sewing day last Sunday, making quilts to gift to refugees recently arrived in the local area
We had such a busy day at Eccleshall Community Centre with more than 20 ladies sewing. Some were finishing quilts started earlier, some starting new ones. By the end of the day, including the quilts that were brought along and donated on the day, the total was 16 – of all sizes, colours and designs.
That brings the grand total gifted so far to over 350! An incredible effort and only possible through the very generous donations of fabric, funds and time by so many of you. I want to say 'Thank You' to everyone who came along on Sunday, and to the husbands and other family members who were drafted in to move furniture, sort out the power supply, and keep us supplied with tea and cakes. Unfortunately, the situation in Ukraine means that people are still having to leave their country and seek safety far from their home. A gift of a beautiful, warm quilt can mean so much.
I have received some lovely messages of thanks, and photos of the smiling recipients with their quilt. Confidentiality prevents me from sharing these photos with you, but everything you have made has gone to an appreciative home. Today (1st November) I have just delivered the quilts made last Sunday, they will be distributed tomorrow, and be in use by tomorrow evening.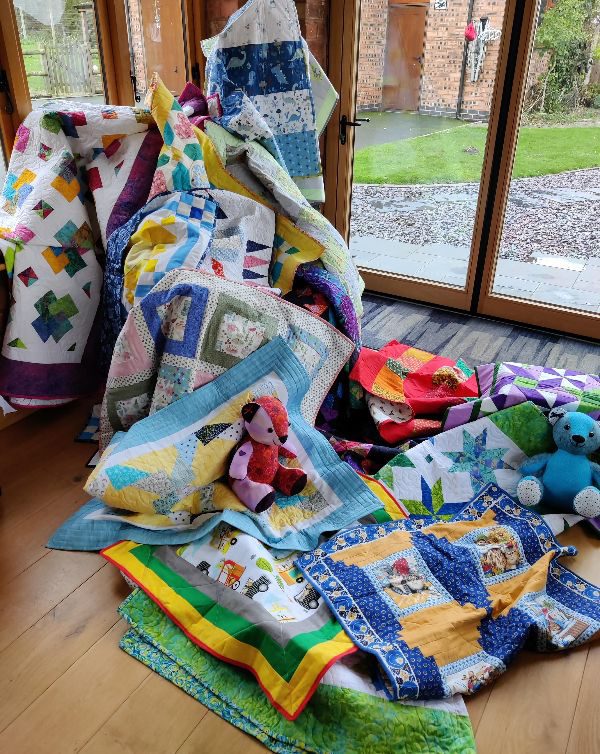 I will be organising more charity sewing days next year. They are such enjoyable days for all who take part. We all share a love of fabric and sewing, we meet new friends, eat cake, chat, maybe learn new skills, and know that we are helping others.
Some of the quilts donated on Sunday had been made to gift to the Project Linus UK charity. Their mission is to provide a gift of a new, handmade, washable quilt or blanket to disabled, disadvantaged, sick or distressed children, to bring them love and a sense of warmth, security and comfort. These quilts have been passed on to them at the request of the maker. The valuable work of Project Linus continues, and on-going needs mustn't be forgotten when crisis situations occur. Perhaps we will make for them next time? I welcome your suggestions.
That was a busy end to what had turned out to be a very busy month.