Will I ever learn? Every month I think I've got plenty of time to write the next newsletter – and then in the blink of an eye it's the last few days of the month, nothing is written and I go into panic mode.
Each time I resolve that the next month I will be really organised, start writing early and get the photos taken, and then at the end of the month, calmly press 'Send'. But it hasn't happened this month, and I am not sure if it ever will!
I just don't know where the time has gone, but if you are reading this I obviously did get it done (with help from my daughter, Kate).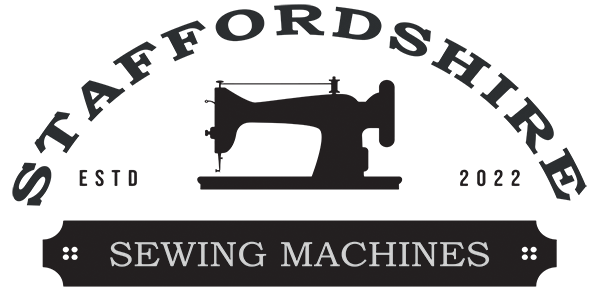 Thank you for all your support of the new Staffordshire Sewing Machines shop, next door to the Corner Patch. People have been popping in to have a look, try different machines, and buy! We now have 10 sewing machines and two overlockers on display for you to come and play with, and a range of machine needles, bobbins, and machine feet too.
The number of you bringing in your existing machines for service and repair has also increased dramatically, so obviously the word is spreading. We are certainly keeping Peter, our expert machine engineer, busy!
The extra space has also meant we can display our dressmaking fabrics better, and we have moved the patchwork rulers in there too. They no longer get knocked onto the floor whenever customers come into the shop!
There is still work to be done in there, the new logo (above) to be printed, and more shelves to go up, but the door is open! Caroline, Faith, Wendy and I are taking turns to be in the new shop, and it's lovely to sit in there and, between customers, try all the different machines while sewing samples for the shop.
Wendy designs patchwork patterns through her business 'Sweetpatches', and some of her patterns and kits are available to buy too. Do come and have a look – and perhaps have a play with the new machines.
New Fabrics
Meanwhile The Corner Patch remains as busy as ever. We cleared a few shelves of fabric during our January sale, so have made space on the shelves for some lovely new stock.
So many deliveries have been arriving. We open each box with delight – and then have to find room on the shelves for everything.
Everything is now on the shelves, and listed on the website – search under 'New Additions' to see what we have.
The new most recent deliveries included some new batik fabrics, and some gorgeous fabrics from the Kaffe Fassett Collective Classic range (below). I wasn't sure how customers would react to these designs; you either love his use of colour and pattern, or it's not for you. It seems I needn't have worried, they have been on the shelves for just one day and one fabric is already nearly sold out! And I have real trouble handing these over, as I really want to keep them all for myself. I will certainly be ordering more.