Another quick email from me to let you know that following today's welcome relaxation of the Covid regulations, workshops, sewing groups and tuition sessions will be up and running from next week.
It will be great to welcome you back to our newly air-conditioned workroom, with new sewing machines for you to use too. We still need to be Covid safe, so you will find the tables rearranged to give space, numbers limited to six people in the room, your temperature will be checked before entry, and an enhanced cleaning and sanitising routine is in place.
It would be helpful if you bring your own basic sewing kit as this will reduce sharing of equipment. You are welcome to use our sewing machines, rulers, cutters and mats and these will be sanitised between use. We also ask that you wipe down any equipment that is shared, for example the iron, after use.
Sit and Sew sessions will be available at the same times as pre-lockdown: Wednesday morning, afternoon and evening, and Friday morning. Sessions must be booked in advance to secure your place and we request payment in advance. For just £6 you can spend a few happy hours sewing your own project and chatting with other sewers. Tea and coffee-making facilities are available – bring your own cake!
Workshops
I have put together a packed programme of workshops to try to accommodate all those whose booked sessions couldn't take place, as well as all the new people who have been contacting me.
Zips and Piping: 10am – 4 pm on Thursday 20 May or Saturday 12 June. £45.
Dressmaking for Beginners: 10am – 4pm on Saturday 22 May, Thursday 27 May, Saturday 29 May, Saturday 5 June, Thursday 10 June or Thursday 24 June. Numbers are limited to just four people for dressmaking sessions. £45.
Beginners' Patchwork Course – the Disappearing Nine-Patch: this comprises sessions once a month over four months to teach you all the essential techniques to make your own quilt. Each session runs from 10am – 2pm. Dates are Thursday 3 June or Saturday 19 June, Thursday 1 July or Saturday 17 July, Thursday 5 August or Saturday 14 August, Thursday 2 September or Saturday 18 September. £35 per session.
Machine Quilting: 10am – 4pm on Saturday 26 June. £45.
Bag Making: 10am – 4pm on Thursday 8 July. £45.
Folded Star Workshop: 10am – 4pm on Saturday 10 July. £45
In July and August on Thursdays over the school summer holidays, there will a series of half-day Quick Sew sessions. These are an ideal introduction to sewing for children or adults; every week students will go home with a small item they have made. £25 per session.
The Block of the Month will return on selected Saturdays from September. Ideal for all abilities from beginners upwards, you will build a different block every month and end with a beautiful quilt of your very own. Contact us for dates. 10am – 2pm. £35 per session.
Also launching in September will be our Christmas Club workshops, helping you prepare for the festivities with no last-minute panic. Each month will concentrate on a different project to make; you can join all sessions or just pick one or two. 10am – 4pm. £45.
I hope there will be something there that interests you. More workshops will be added over time – Advanced Bag Making, Sewing with Stretch and Nuno Felting are being planned – so keep your eye on these newsletters, the website, and social media.
For more details about any of the workshops please don't hesitate to get in touch.
I can't end without showing you the cute little girl's dress I made at the weekend. This is for age four and took just one metre of the 'Beside the Sea' double border fabric from Makower. The swing dress pattern is by Life Sew Savory and has a short sleeve option too. It will fit my younger granddaughter and I can't wait to see her in it!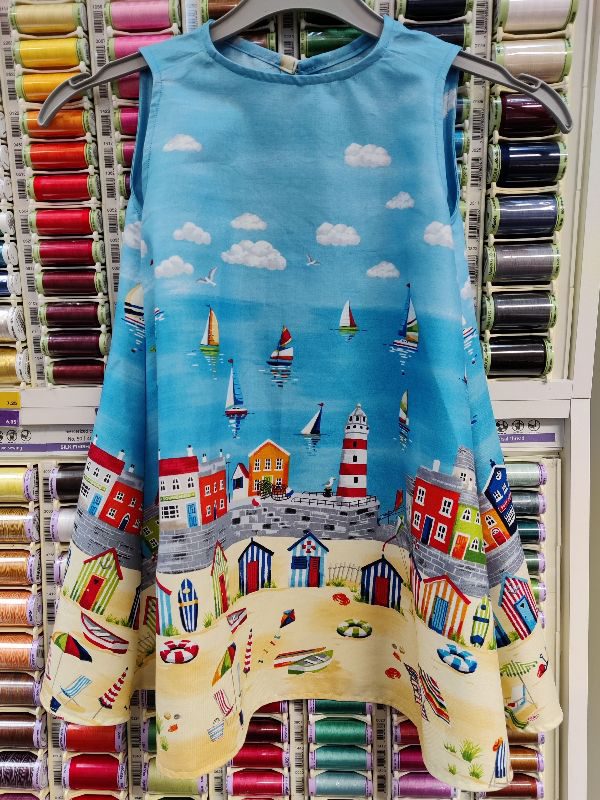 Hope to see you soon. Take care and enjoy the easing of restrictions. I am meeting my family later this month to celebrate all those missed birthdays, especially my son's 40th last year. About 25 of us are meeting in a wooded area in Oxfordshire – the most central point we could find – with ages ranging from three years to 86 years. When we all get together you may hear the noise from here!