What a difference a month makes!
We certainly experienced some historic events last month with the death of Queen Elizabeth II. We all knew that The Queen was aging and she appeared increasingly frail, but I certainly wasn't prepared for her passing.
Did you spend the day of The Queen's Funeral glued to the TV? I intended just to watch an hour or so, but in the end I had one eye on the screen all day – in company with the estimate of over half the world's population! It's so hard to believe that just three months ago the processions were all about celebrating her Platinum Jubilee, and now it was to mark her passing.
I haven't been to seen the Crown Jewels for years, and we got a wonderful view of the Crown, Orb and Sceptre on the coffin. It has made me want to find out more about the origin of some of those jewels and go and see them again – but I think a lot of people will feel the same and London will be very busy with tourists for the next few years.
At the beginning of the month I had a stall at the Eccleshall Show. This was my first visit, as lockdown had made it a 'virtual' event since I took over the shop. It really was a fantastic event with something for everyone; horses, cars, horticultural and craft show, so many stalls to browse, games and rides for the children and food of every description! I am in awe of the organisers, and everyone else who made it happen.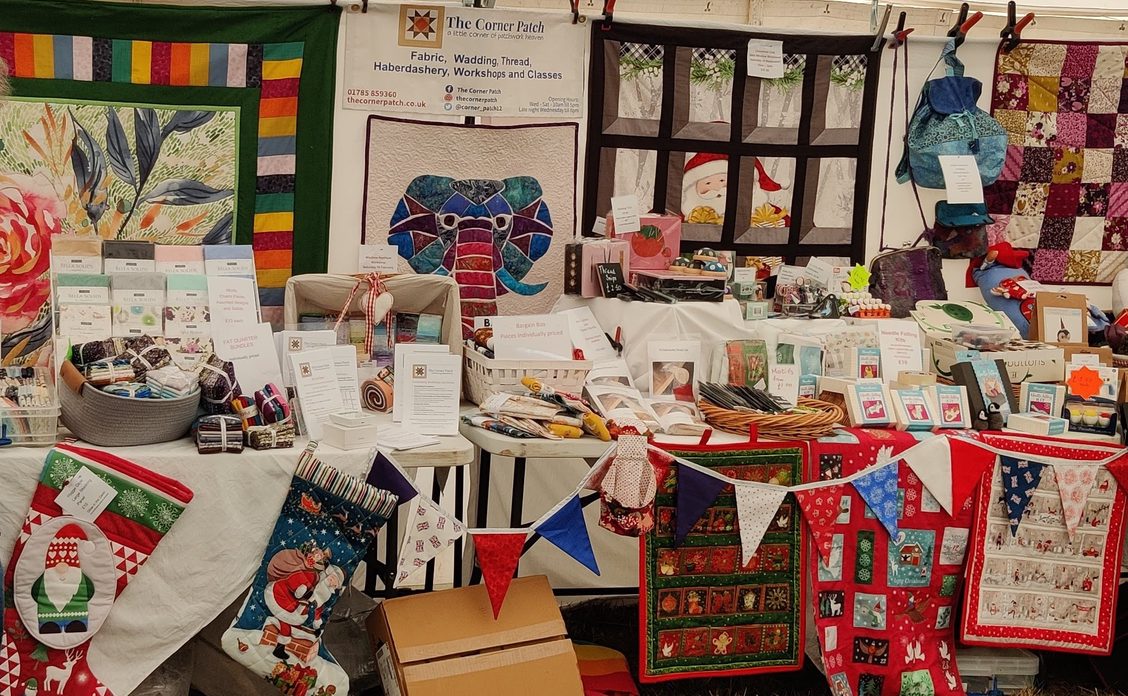 I was so pleased to see 'my fabrics' used in many of the entries in the craft classes, and to present the award for the best entry to a regular customer – and no, I wasn't the judge!
On a personal note I had been expecting September to be a quieter month for family events as the grandchildren went back to school, but it didn't turn out that way. First, I had an unexpected trip to my son's family in Dartford for 'emergency Granny duties' as the schools returned. My daughter-in-law is a teacher; her school went back first and her mum was booked to look after the children. Unfortunately, at the last minute she couldn't do it as her husband was taken ill, so I jumped onto a train to take over.
James went back to school into Y3, and Erin was starting Reception, with a staggered start over the first week. So I spent a few days doing school drop offs and pick ups, packing lunch boxes and sorting out uniforms. Just like old times! I think I cried again every time too. With the grandchildren I have a much greater sense of how fleeting these childhood years are.
Then it was down to Bath for a few days looking after the other grandchildren while their mum was away. These two are very 'grown-up' secondary school students now, but not too big to enjoy a few days being spoilt by Granny. And it was lovely to get special time with them all.
While in Bath, and with my days free while the children were in school, I took the opportunity to visit the American Museum and spent some lovely hours in the quilt exhibition gallery. It is well worth a visit if you are ever in that area.